1927
1927 – Nick's opens as a 50-seat candy store/sandwich shop
1934
We received our liquor license. We've had one in the same location ever since
NCAA Championships
1941, 1953, 1976, 1981, and 1987
Winning a NCAA championship in men's basketball always helps to create business at Nick's during Indiana's tournament run
1945
GI Bill, which sent more than 8 million World War II veterans to school. Nick's business more than doubled
Circa 1965
Nick's expands to the backroom
1967
Open our first room upstairs, the Attic
1975
Received our first pizza ovens
1979
Opened our second room upstairs, the Hump Room
1999 – 2000
Open our third room upstairs, the Hoosier Room
2005
Rags and Susan buy their first 10% ownership stake in Nick's English Hut
Allow all ages to enter on the restaurant side
2007
Expand and remodel the Hoosier Room
2008
Future President Barack Obama visits on his presidential run
Present Time
Overtime we've gone from having 50 seats to over 500
Nick's English Hut is a Bloomington Indiana and IU Enthusiasts Staple
Serving great food and beer to Bloomington's finest since 1927. We are committed to supporting local farmers and cooking the highest quality ingredients.
We have a rich history built on the leadership and character of some unique personalities that have shaped Nick's English Hut into what it is today.
A legendary hangout to eat, drink, and share peace, love, and Strombolis.
Take a journey with us as we highlight our rich history.
Nick Hrisomalos
Lived the authentic immigrant's success story. At age 14, armed with only a third grade Greek education, Nick boarded a ship and set off for the United States, where he soon found employment in the steel mills of Illinois.

At age 22, Nick returned home to serve in the Greek army during the first Balkan war.

Although he was not a naturalized citizen, Nick was drafted into the U.S. army in 1918, earning $21 per month and sending $18 per month home to his mother. He was scheduled to leave for the front lines in Europe but contracted the virulent and often deadly Spanish Flu.

After he was discharged 1918, Nick came back to the U.S.; this time settling in Bloomington, Indiana alongside other young Greek entrepreneurs who were finding success.
Nick opened a tiny shop on North Walnut selling peanuts, popcorn and novelties. For a little extra money he cleaned shoes and hats. He later opened Nick and Tom's Soda Fountain selling sodas, candy, magazines and tobacco.
He continued with his various businesses in Bloomington until he opened Nick's in 1927. He rented out half of the small property to a haberdashery where his good friend Herman B. Wells worked. In April of 1929, Nick's wife Katina gave birth to their only child Frank, who along with his own sons, Tom and Nick, daughters, Karen and Elaine, would become successful members of the Bloomington and Indianapolis medical community.
Ruthie Collier Stewart
While the relationship could sometimes be considered contentious, Ruthie's brusque wit and honest character became legendary and forever linked with Nick's. "Ruthie stories" can be heard throughout the country from alumni who have never forgotten her over the years. She received a proclamation from mayor Frank McCloskey; and, in her honor, Nick's created the Wilma Ruth Collier Jackass Award for those customers designated a "Ninny Headed Clodpate with permanent access to the nearest exit.

According to "The College of Beer: The Story of Nick's English Hut" written by Bill Weaver, waitresses viewed Ruthie as an inspiration "as someone who lives within her means, never loses her sense of personal value as a human being and never gets pushed around."

On December 22, 1985, Ruth married her high school sweetheart, Harold Stewart, in the Nick's Attic. Nick's staff and regulars, both current and former, participated in the celebration.
Dick Barnes
A successful and innovative businessman, Dick had brought pizza to southern Indiana by way of an Italian family he knew in his home town of Richmond, Indiana. He studied the art of making "pizza pies" from Frank Mastro in New York and returned to Bloomington to open the Pizzaria in 1953.

A display window was inserted so passersby could watch the pizza-maker in action. It was a hit; people would drive hundreds of miles for this new cuisine. Once he became owner of Nick's, pizza was delivered on foot from the Pizzaria to Nick's and history says the rest.

Dick owned several more successful Bloomington establishments throughout the years including the Pizza Barn, La Tortilla, Davy's Locker and Ye Olde Regulator-for which he received "National Tavern of the Year" honors two years running.
Gregg "Rags" Rago
In 1978, 19 year-old "Rags" began working in Nick's kitchen, and he has been working at the legendary tavern ever since. "I love this town, and I love the people," he says. "It's the greatest job in the world."

Rags currently serves as the owner and cook extraordinaire of the establishment that has become his fishbowl. "I see the world through the eyes of Nick's."

As ringmaster of a small kitchen that produces an abundant variety of food to an ever-increasing clientele, Rags continuously contemplates ways to improve the menu, even while on vacation. While mindful of preserving the tavern's iconic traditions, he looks for new ideas each time he visits a restaurant or bar in the U.S. or abroad.
With an endless supply of Nick's memories, Rags in particular remembers the anxiety-filled 1981 NCAA basketball championship game. Patrons had been waiting (and imbibing) patiently throughout the day for the evening tip-off. But tragedy struck when then-President Ronald Reagan was shot during an assassination attempt.

The atmosphere was tense as fans waited to hear if the game would be played. Fortunately, the game went on as planned, the Hoosiers were victorious and Nick's patrons were first on the scene as Kirkwood turned into a euphoric sea of red. "By the time Nick's closed, we were down to a single four-pack of Ballantine Ale. All's well that ends well."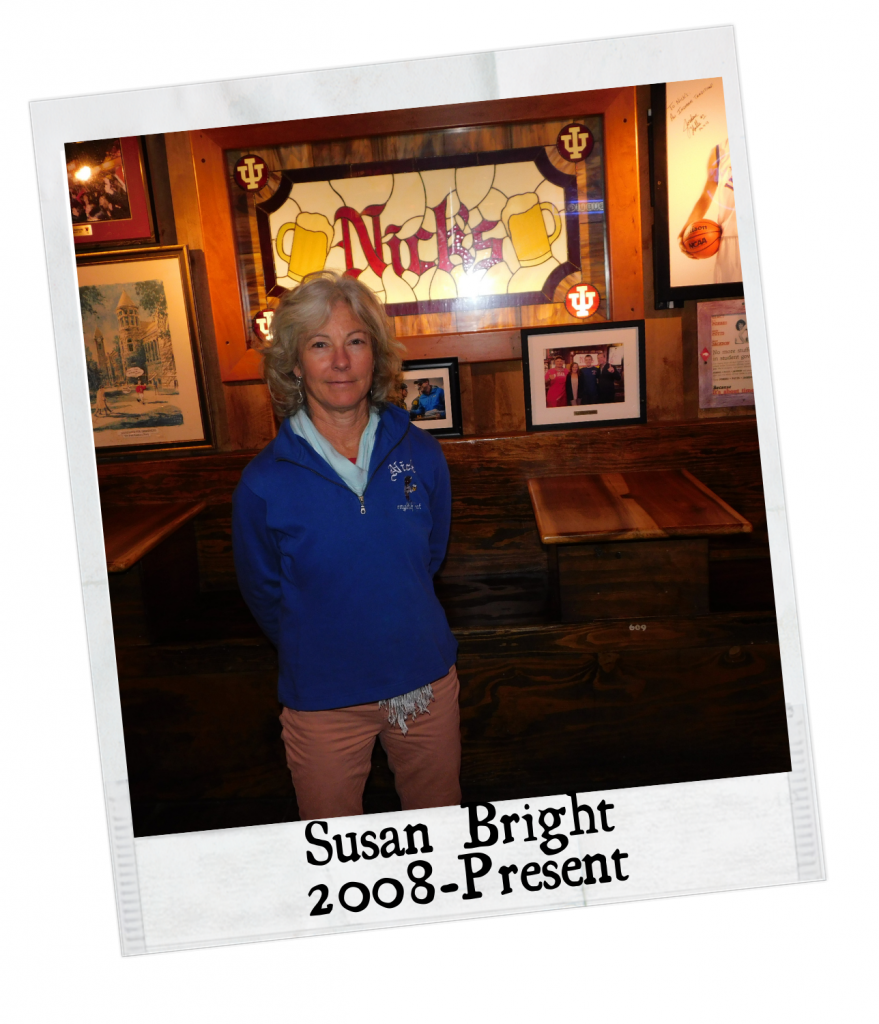 Susan Bright
Susan Bright began working at Nick's English Hut in 2008. She was hired as our first ever Finance Officer and chose to work as a server for the first year to learn the nuts and bolts of the business. After working at Bloomingfoods Cooperative Grocery for 20 years in a multitude of roles that included Operations Manager, she implemented many systems and quality control measures that would help sustain Nick's for decades to come.
According to Rags, Susan's brilliant decisions overtime helped transcend Nick's into the restaurant and bar we know today. He describes her as a business genius, who started to run Nick's like a 21st Century company. Susan has added her values of food, locally grown and organic, to Nick's thought process when purchasing menu items.

As Susan and Rags became the owners of Nick's they felt it was their responsibility to carry on the two previous owners' dreams and desires of what they hoped Nick's would become, what we all know it today as an Iconic Bar Restaurant in the heart of the Midwest. They also hoped to leave their own legacy behind so in 2018 they opened Osteria Rago, an authentic Italian restaurant tucked away in an alley around the corner from Nick's. They believed this would benefit the community since in the 40 years they have lived in Bloomington there hasn't been an authentic Italian restaurant and who better than a Rago should open one with his ancestry dating back to the 1500's in Calabria, Italy.
Her favorite moment was when Christian Watford hit what is known as the WatShot against Kentucky on December 10, 2011. Unfortunately, this is the same day Nick's legendary server Ruthie died. Another one of her favorite moments is when Nick's had our 90th birthday party. She was surprised at the amount of people who showed up to celebrate, both inside the restaurant and outside. Part of Kirkwood Avenue was closed for the party, which was remarkable. Susan loves to see her employees and customers happy and with a smile on their face. She remembers when potential President Barack Obama came into Nick's on his presidential run in 2008, there were lots of happy faces eager to meet him that day. Her favorite item on the menu is a Nick's Burger with all the fixings. Susan lives by the phrase, "Live. Laugh. Love." Rags believes she lives by, "Bike. Hike. Kayak," because she loves the outdoors.


Nick's Has Been a Bloomington Tradition Since 1927
Business took off in 2005 when restaurants banned smoking in all enclosed workplaces, including bars and restaurants, in Bloomington, Indiana. This allowed us to let in kids and families so everyone could enjoy Nick's English Hut. We wouldn't be the place we are today, or the destination we are, without this change.
Fischer Farm's, which is located in Jasper, Indiana, was our first big local food vendor. They provide us with all our beef products and a few other products from local farmers. We love to stay local and involve the community. In 2005, Rags and Susan bought their first shares of Nick's stock, since then they have purchased the rest.
When people talk about Nick's they love using words and phrases like "Sink the Biz," "Indiana University, "Bloomington, Indiana," "Indiana basketball, football, soccer, and athletics," "Little 500 bike race," "the day they turned 21," "Kirkwood," and "draft beer." Susan and Rags both enjoy the Wall of Fame, which is located on the way upstairs to the Hump Room. IU and Olympic athletes, famous celebrities, and many more have signed the wall.